Zoisite - knowledge base, jewelry
Properties of zoisite, physiological effects, zodiac signs and zoisite jewelry.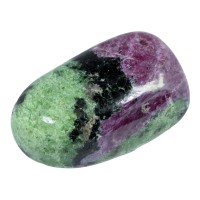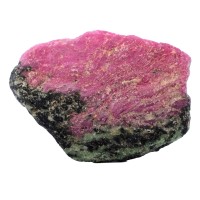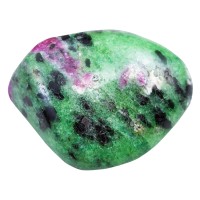 Zoisite is a calcium- aluminium hydroxy sorosilicate belonging tot he epidemiological group of minerals. It's found in a metamorphic and pegmatitic rocks. It occurs in many different colors, but the blue crystals are known under the name tanzanite. It's luster is glassy. The mineral was described by Abraham Gottolb Werner in 1805, he named it after the naturalist Sigmund Zois. Zois realised that this was a completely new type of mineral.
Chemical and physical properties of zoisite:
Formula: Ca2Al3(SiO4)(Si2O7)O(OH)
Crystal system: orthorhombic
Category: sorosilicate- epidote
Color: white, grey, greenish brown, greenish grey, pink, blue, purple
Streak: white or colourless
Transparency: transparent- translucent
Cleavage: perfect- less perfect
Fracture: conchoidal- uneven
Mohs scale hardeness: 6,0 – 7,0
Specific gravity: 3,10 – 3,36 g/cm³
Major metaphysical healing properties attributed to zoisite:
Fertility enhancement, immun system booster, pancreatic disease, stomach upset, impotence,sexual dysfunction, gynecological issues, regenerates the human tissue, transforms the negative energies into positive ones, strengthens the nervous system.
Zodiacs associated with zoisite gemstones:
Zoisite is the gemstone of the zodiac sign of Taurus and Gemini.
Click here to read about the general characteristics of horoscopes!
---
A part of our zoisite jewelry offer. Click on the images for more details!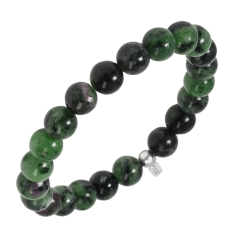 For more jewelry please click here!
---
Formation of zoisite
Zoisite is formed in massive forma s orthorhombic, prismatic crytals in metamorphic and pegmatic rocks.
Use of zoisite
Gemstones are usually polished from beautiful transparent zoosite, while ornaments are carved from translucent or opaque pieces.
Occurrence of zoisite
Kenya, Tanzania, Switzerland, Norway, Pakistan, India, Austria, United States.
---