Malachite - knowledge base, jewelry
Properties of Malachite, physiological effects, zodiac signs and Malachite jewelry.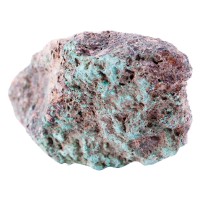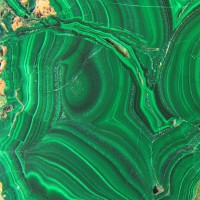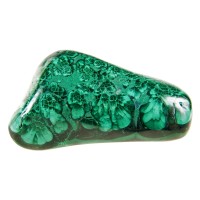 Malachite is a copper carbonate mineral that forms in swirling, unique patterns.
This mineral is extremely rarely seen in crystallised form, but when it is, malachite has long needle-like-looking stalactites. Because of its green colour, it takes its name from the Greek word 'malache' (mallow), having first been discovered as a new mineral in 1747. Malachite is commonly found in azurite and chrysocolla. The gemstone eilat is a combination of malachite, chrysocolla and turquoise. Malachite is thought to have been used in ancient Egypt as early as 3000 BC for ornaments and jewellery. In the Middle Ages, malachite was used as a 'medicine' to combat stomach ailments.
Chemical and physical properties of Malachite:
Formula: Cu2CO3(OH)2
Crystal system: monoclinic
Category: carbonate
Color: azure, blue
Streak: light blue
Transparency: translucent, opaque
Cleavage: perfect
Fracture: conchoidal
Mohs scale hardeness: 3,5 – 4,0
Specific gravity: 3,8 g/cm³
Major metaphysical healing properties attributed to malachite:
Supports the nervous system, detoxifying, blood pressure lowering, sexual and menstrual problems, liver, rheumatic complaints, arthritis, asthma treatment, tumours, pancreas, thyroid problems, stimulating brain function, improving optic nerves, deacidification, DNA cell building, harmony, good luck.
Zodiacs associated with malachite gemstones:
Malachite is the gemstone of the zodiac sign of Taurus and Scorpio.
Click here to read about the general characteristics of horoscopes!
---
A part of our malachite jewelry offer. Click on the images for more details!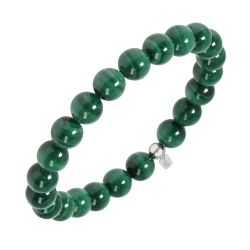 For more jewelry please click here!
---
Uses of malachite
Jewellery, ornaments, sculptures, vases, etc.
Major occurrence of malachite
Ural Mountains - Russia, Democratic Republic of Congo, Gabon, Zambia, Namibia, Mexico, South Australia, Lyon - France, Israel and Arizona - USA
---