Rhodochrosite - knowledge base, jewelry
Properties of rhodochrosite, physiological effects, zodiac signs and rhodochrosite jewelry.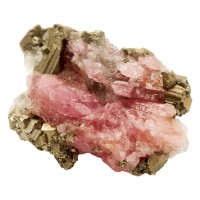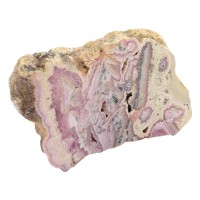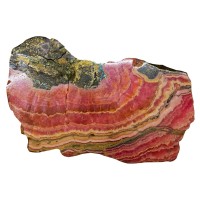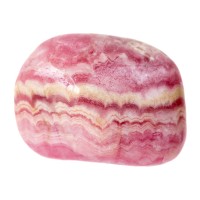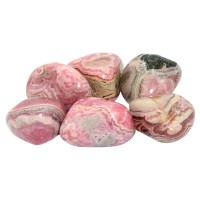 Rhodochrosite is a carbonate mineral.
It is usually found in pink or red in nature. The presence of mineral manganese determines the color of rhodochrosite gemstones. Its main use is as an ore of manganeses. Due to it's natural beautiful shape and durability, this mineral can be best utilized as a crystal for various decorative purposes. Rhodochrosite is rarely found as a regular shaped crystal, so crystals are extremely valuable minerals. Rhodochrosite is in most cases easily recognizable and rarely confused with other minerals. They are typically pink in color, trigonal in system, low in hardness, and are mostly not found in other minerals.
Chemical and physical properties of rhodochrosite:
Formula: MnCO3
Crystal system: trigonal
Category: carbonate
Color: pink, rose red, red, yellow, yellowish grey, grey, cinnamon brown, white
Streak: white
Transparency: transparent, translucent
Cleavage: perfect
Fracture: uneven, conchoidal
Mohs scale hardeness: 3,5 – 4,0
Specific gravity: 3,7 g/cm³
Major metaphysical healing properties attributed to rhodochrosite:
Relieves asthmatic symptoms, for a breathing problems, enhances sexuality, improves circulation, cleanses the kidneys, soothes migraines, heart problems, a mineral of happiness, increases cheerfulness, self-confidence.
Zodiacs associated with rhodochrosite gemstones:
Rhodochrosite is the gemstone of the zodiac sign of Taurus, Cancer, Libra and Scorpio.
Click here to read about the general characteristics of horoscopes!
Use of rhodochrosite
Its main use is as an ore of manganese, which is a key component of low-cost stainless steel formulations and certain aluminium alloys. Quality specimens are often used for decorative stones and jewelry. The rhodochrosite relatively soft, it is very difficult to cut, and therefore rarely found in jewelry, they are made of beads.
Occurrence of rhodochrosite
It occurs in few places around the world, mostly where other manganese minerals are also present. Eg.: Argentina, South Africa, Peru, Montana, Colorado, USA, Russia, Romania, Spain, China, Gabon, Mexico and Japan.
---