Kunzite - knowledge base, jewelry
Properties of kunzite, physiological effects, zodiac signs and kunzite jewelry.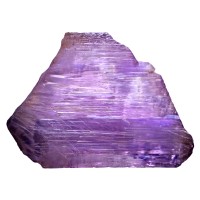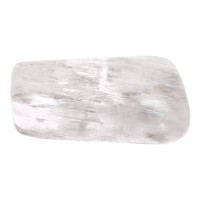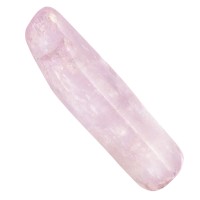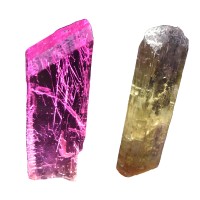 Kunzite is a type of spodumene that is also used as a gemstone. Spodumene is a pyroxene mineral composed of lithium - aluminium - inosilicate and is also a source of lithium. It was originally defined in 1903 by George F. Kunz, a leading jeweller and renowned mineralogist of the Tiffany Company, as a transparent, purple, spodumene. It was named after him. Its colour is caused by the higher amount of manganese impurities.
Chemical and physical properties of kunzite:
Formula: LiAlSi2O6
Crystal system: monoclinic
Category: inosilicate
Color: white, pink, purple
Streak: white
Transparency: transparent
Cleavage: perfect, prizmatic
Fracture: uneven- conchoidal
Mohs scale hardeness: 6,5 – 7,0
Specific gravity: 3,03 – 3,23 g/cm³
Major metaphysical healing properties attributed to kunzite:
It helps the circulatory system, relieves pain, treats sciatica, hematomas, nerve entrapment, joint problems, strengthens the heart, treats cataracts, treats epilepsy, is a happiness booster, stress reliever, relieves depression.
Zodiacs associated with kunzite gemstones:
Kunzite is the gemstone of the zodiac sign of Libra and Pisces.
Click here to read about the general characteristics of horoscopes!
---
A part of our kunzite jewelry offer. Click on the images for more details!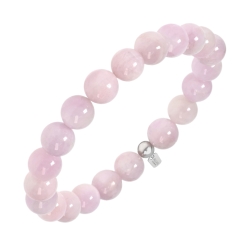 For more jewelry please click here!
---
The origin of kunzite
The naturally occurring low-temperature α-spodumene form is in the monoclinic system, while the high-temperature β-spodumene crystallizes in the tetragonal system. α-spodumene is converted to β-spodumene at temperatures above 900°C.
Use of kunzite
When polished, kunzite is commonly used as a gemstone for jewellery.
Main occurence of kunzite
USA, Brazil, Canada, Russia, Mexico, Afghanistan, Pakistan, Sweden, Western Australia.
---