Zircon - knowledge base, jewelry
Properties of zircon, physiological effects, zodiac signs and zircon jewelry.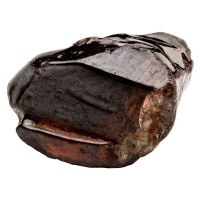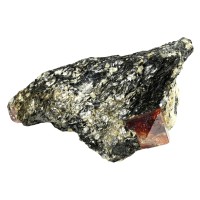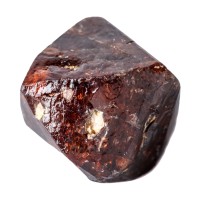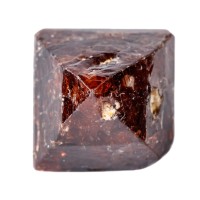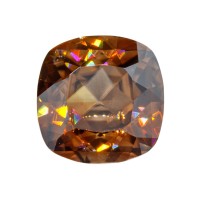 Zircon is a mineral (zirconium silicate, ZrSiO4) that most often occurs in brown, square, columnar crystals in old mass rocks as a rock-forming mineral.
It has a diamond luster, but its hardness is lower than that of zirconia.
The red and yellow transparent Zircon is also called hyacinth and is known as a gemstone. It occurs in adult crystals in the fissures of chlorite shale (Pfitschthal), while in the form of ingrown crystals as an additional component in granites.
In a secondary deposit it is found in sand spinel, in the company of corundum in Ceylon, in gold-bearing sand in Hungary in Oláhpia, and then in Russia in Berezowsk.
Its transparent, colorful variations are polished to gemstones, and the less beautiful ones are processed into bearings for watchwork and scales.
Hyacinth
Zircon is a transparent version of brownish red, red, and yellow and is known as a gemstone.
Chemical and physical properties of zircon:
Formula: ZrSiO4
Crystal system: tetragonal
Color: brown, red, yellow, grey, green
Streak: white
Transparency: transparnet- translucent
Cleavage: imperfect
Fracture: conchoidal - uneven
Mohs scale hardeness: 6,5 – 7,7
Specific gravity: 4,6 – 4,7 g/cm³
Zirconia and cubic zirconia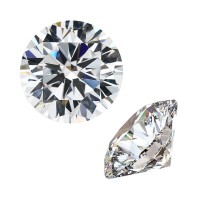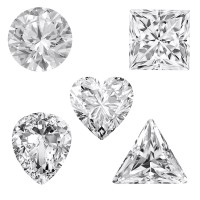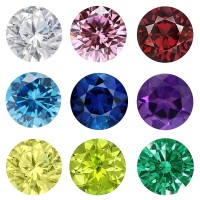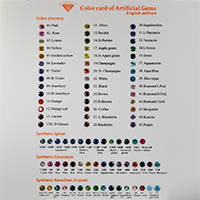 Zirconia is a gemstone that occurs in its natural form, but is now mostly produced artificially since the 1970s. The artificially produced version is called cubic zirconia (CZ), which is otherwise almost identical to naturally occurring zirconia.
Cubic zirconia (which is actually zirconia) is a synthetic gemstone made from zirconium (chemical element: Zr40). It is created in a strictly controlled environment so that the main constituents are zirconia and other minerals such as calcium oxide. The zirconium-containing sand is placed in an electric arc furnace for approx. It is melted at 2600oC to form molten zirconia. The cooled and crushed zirconia will actually be zirconia, which can be cut and polished into gemstones.
Manufacturers can also create colored gemstones in the process by adding various elements. For example, chromium green stone, titanium produces golden brown, and the addition of different amounts of cerium makes cubic zirconia yellow, orange, or red. Because natural zirconia is very rare, almost all zirconia used in the market is cubic zirconia made in a laboratory.
At a relatively low price, however, due to its beautiful appearance that mimics a diamond, it is almost the most common synthetic gemstone in the jewelry industry. It is a hard and beautiful gemstone that can be produced in almost any color, which can be a cheaper alternative to most gemstones.
CZ (cubic zirconia) is neither a diamond nor a synthetic diamond, as the name is unfortunately used by many traders in the names and descriptions of their jewelry in a misleading way!
A diamond also has an artificially shaped shape, but it's not the same!
However, because it is a gemstone that is very similar to a diamond and, moreover, is cut and incorporated into jewelry in the same way as a diamond is cut, it can be called a "fake" diamond.
Regardless, it is a very beautiful gemstone in itself and not a fake just because it is deceptively similar to a diamond, but not the same.
Zirconia is also an increasingly popular adjunct in dentistry. It is more expensive than traditional porcelain stiffened with a metal insert, but dental crowns made of zirconia ceramics are more similar to natural teeth.
Grinding like diamond can be very versatile. (see Grinding Gems for more details).
Chemical and physical properties of zirconia and cubic zirconia:
Formula: ZrO2
Crystal system: tetragonal
Color: exists or can be produced in almost any colour
Streak: white
Transparency: transparnet
Cleavage: imperfect
Fracture: conchoidal - uneven
Mohs scale hardeness: 8,0 – 8,5
Specific gravity: 3,93 – 4,73 g/cm³
Major metaphysical healing properties attributed to zircon:
To relieve liver complaints, antispasmodic, relieves menstrual cramps, treats isiasis, removes toxins from the body, balances the kidneys, adrenal glands, protects against infectious diseases, soothes, reduces nightmares.
Zodiacs associated with zircon gemstones:
Zircon is the gemstone of the zodiac sign of Sagittarius.
Click here to read about the general characteristics of horoscopes!
---
A part of our zircon jewelry offer. Click on the images for more details!
For more jewelry please click here!
---
Zirconium
(Zirconium) is a chemical element marked Zr40 with an atomic weight of 91,224 and a silvery gray metal. Its compounds are found in small amounts in many places.
Such e.g. the zirconium mineral, the main constituents of which are zirconium silicate ZrSiO4, and the minerals auerbachite, malacon, eudialite, catapleite and wöhlerite.
It can be prepared from potassium zirconium fluoride by reduction with metallic potassium in amorphous form or in crystalline form from potassium zirconium fluoride by fusing it with metallic aluminum, whereupon it precipitates in the zirconium crystals on the surface of the cooled mass.
Production of pure metallic zirconium
Most recently, it is made from 97-98% zirconium by pressing it into rods and in a vacuum electric oven at 1011 mm. melted in hydrogen gas at the temperature of the electric arc light.
Amorphous zirconium
It is a carbon black powder that ignites when heated in air and burns ZrO2 to zirconia with bright light.
Crystalline zirconium
It is metallic and hard and brittle, it only starts to oxidize on the white glow and burns only to zirconia in the flame of the burst gas, or zirconium chloride in the red glow of chlorine gas.
Chemical nature
Zirconium is sparingly soluble in acids, and its best solvent is hydrofluoric acid, which dissolves it in zirconium fluoride and is also soluble in aqua regia. According to its chemical nature, zirconium forms about a transition between positive and negative elements. In its compounds, zirconium is a tetravalent radical. Zirconium oxide (zirconium earth or zirconium acid) is ZrO2, obtainable from zirconium-containing minerals or from zirconium in amorphous or crystalline form. The fiercely calcined zirconia is dissolved only in concentrated sulfuric acid and hydrofluoric acid; fused to carbonates to produce carbon dioxide; it glows with intense light when ignited in the flare of the burst gas.
Zirconium hydroxide Zr (OH) 4 is a white, yellowish-white precipitate which can be separated from the solution of the zirconium salts by ammonia; upon heating it is converted to zirconia, acids are dissolved into zirconium salts, strong alkalis are converted into zirconates. Zirconium salts are colorless, have a sour, very astringent taste, and the salts of volatile acids decompose on heating. Zirconium was discovered by Klaproth in 1789. Colored zirconium was first produced by Berzelius in 1824 by reduction from potassium zirconium fluoride with metallic potassium.
---