Ruby - knowledge base, jewelry
Properties of ruby, physiological effects, zodiac signs and ruby jewelry.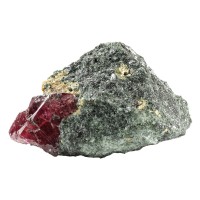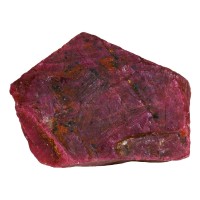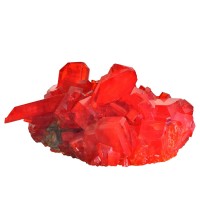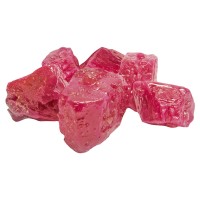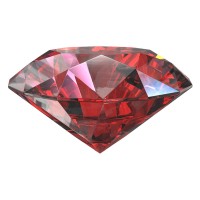 Ruby is a variety of the mineral corundum.
Due to it's rarity and beauty, it is one of the top gemstones. Dark-blooded ruby grains have a higher value than colorless diamonds of the same size. It's the hardest mineral after diamond. Mohs scale: 9.0 (hardeness).
Chemical and physical properties of ruby:
Formula: Al2O3 aluminium - oxide
Crystal system: trigonal, six- sided prism
Category: corund
Color: red, orange, pink, colorless
Streak: white
Transparency: low translucent, opaque
Cleavage: none
Fracture: conchoidal, splintery
Mohs scale hardeness: 9,0
Specific gravity: 3,97 – 4,05 g/cm³
Major metaphysical healing properties attributed to ruby:
It energizes, detoxifies, improves circulation, stimulates the adrenal glands and kidneys, increases the function of the genitals, protects against infections, has a protective effect, provides courage and gives balance.
Zodiacs associated with ruby gemstones:
Ruby is the gemstone of the zodiac sign of Aries and Leo.
Click here to read about the general characteristics of horoscopes!
---
A part of our ruby jewelry offer. Click on the images for more details!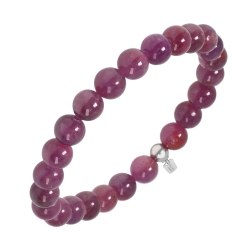 For more jewelry please click here!
---
Ruby is a crystalline form of aluminium oxide 
The aluminium oxide it's a colorless material, if it mixed with chromium, the color change to red. The color of the ruby depends on the amount of chromium, according to which different variants are distinguished:
pure red, oriental ruby,
darker red, male ruby,
lighter red, female ruby,
violet volor is amethyst sapphire or oriental sapphire,
yellow, orienat zircon,
the red color that shows the phenomenon of radiant light is called a star ruby, a ruby aster or ruby cat's eye.
Synthesis ruby:
Today, larger ruby grains are also produced artificially.
In 1837 Gaudin made the first synthetic ruby and, in 1902 Verneuil produced larger rubies artifically.
The Verneuil process consists of spraying finely divided aluminium oxide, low-carbon potassium, fluoro potassium and potassium dichromate into a downward flame gas flame, fusing these compounds at high temperatures and rubbing a large clay placed under the blast furnace, they solidify in the form of drops. Potassium bichromate can be used to change the color of the artificial ruby as desired, colorless without potassium bichromate. More recently, rubies have been produced in electric furnaces, and artificial rubies, if flawless, cannot be distinguished from natural ones.
Balas rubies, the pink spinel
Ruby- spinel is a bright red spinel, both of which are very precious gemstones.
The Czech-, Saxon-, Silesian-, Kap-, Ceylon-, Colorado- and Arizona rubies are garnet (pirop); pink Czech ruby it's a rose quartz; Siberian ruby it's a red tourmaline, Brazilian ruby,it's a red topaz, violet ruby it's amethyst; the fake ruby is red fluorite.
You can read more in the chapter entitled Corundum!
---