Moss agate - knowledge base, jewelry
Properties of moss agate, physiological effects, zodiac signs and moss agate jewelry.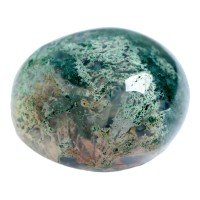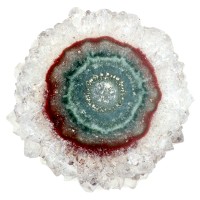 Moss agate is usually a colourless, translucent chalcedony variety.
It is often decorated with moss or woody hornstone inclusions. Hence the name moss agate. The name agate is not really appropriate because it does not have a striped pattern. Moss agate is mostly found in sedimentary deposits, possibly in fissures, as fill material. The crystal structure of moss agate is trigonal. It cannot be confused with other gemstones because of its distinctive pattern, but it can be made into fairly high quality duplicates.
Chemical and physical properties of moss agate:
Formula: SiO2 silicon dioxide
Category: quartz
Color: colorless, green, brown
Streak: white
Transparency: low translucent
Cleavage: none
Fracture: uneven
Mohs scale hardeness: 6,5 – 7,0
Specific gravity: 2,58 – 2,64 g/cm³
Zodiacs associated with moss agate gemstones:
Moss agate is the gemstone of the zodiac sign of Gemini and Cancer.
Click here to read about the general characteristics of horoscopes!
---
A part of our moss agate jewelry offer. Click on the images for more details!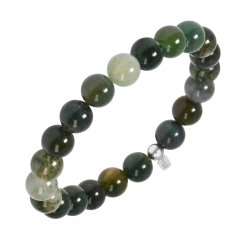 For more jewelry please click here!
---
Use of moss agate
It is usually sanded into thin sheets so that the pattern shows up nicely. It is used to make ornaments, pendants and possibly pins.
Occurrence of moss agate
China, USA, Hindustan, Mexico, Madagascar, Italy, Egypt, India, Scotland.
---