Unakite - knowledge base, jewelry
Properties of unakite, physiological effects, zodiac signs and unakite jewelry.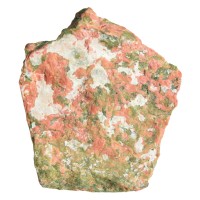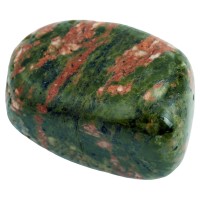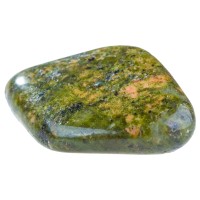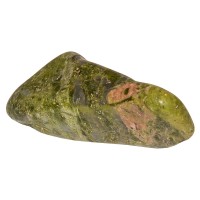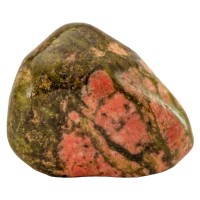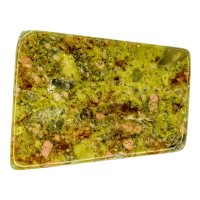 Unakite is am altered orthoclase feldspar, potassium- aluminosilicate, epidote, calsium- aluminium – ferrosilicate and generally clear quartz.
A real rock, a composite material made up of several other rocks. It's actually an altered granite consisting of pink orthoclased feldspar, green epidota and usually colorless quartz. This achieves the apperance of the known moss brick. Unakit's unique designs, durability and affordable price have made it a useful sotne for architecture as well.
Chemical and physical properties of unakite:
Formula: KAlSi308, Ca2(Al,Fe)3(SiO4)3(OH) + SiO2
Crystal system: monoclinic
Category: silicate
Color: green with pink, yellow, red - terracotta and white spots
Streak: grey
Transparency: opaque
Cleavage: perfect
Fracture: conchoidal
Mohs scale hardeness: 5,0 – 7,0
Specific gravity: 2,85 – 3,20 g/cm³
Major metaphysical healing properties attributed to unakite:
It helps to recover from serious illnesses, ability to self- heal, regenerates the liver and the skin and hair, makes it easier for expectant mothers, very strong healing mineral, maintains peace of mind.
---
A part of our unakite jewelry offer. Click on the images for more details!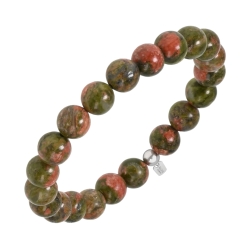 For more jewelry please click here!
---
Use of unakite
Good quality unakite is considered a semi- precious stone. With a beautifully polished surface, it's often used in jewelery as prearls or cabochons. But they also make small sculptures out of it. Non-precious stones are used to make unique building cladding.
Occurrence of unakite
United States- Mountains of Unakas, first place where they were found. It also got it's name from here.
---