Pyrite - knowledge base, jewelry
Properties of pyrite, physiological effects, zodiac signs and pyrite jewelry.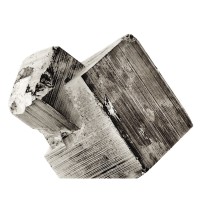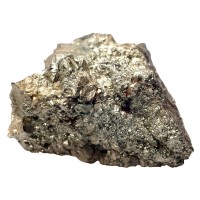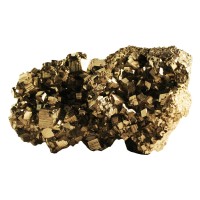 Pyrite is a common mineral.
It is a component of metamorphic rocks, found in sedimentary deposits in hydrothermal veins and among a wide variety of geological formations. Pyrite's metallic luster and pale brass-yellow hue give it a superficial resemblance to gold, hence the well-known nickname of "fool's gold". But it is easily distinguishable from gold because it's surface is much lighter and harder. The name pyrite is derived from the Greek "pyrites lithos", its a "stone or mineral which strikes fire in turn from fire".  In ancient Roman times, this name was applied to several types of stone that would create sparks when struck against steel. Pyrite oxidizes slowly in a humid environment, releasing sulfuric acid.
Chemical and physical properties of pyrite:
Formula:  FeS2
Crystal system: cubic
Category: sulfide
Color: brass colour shiny
Streak: greyish black
Transparency: opaque
Cleavage: wrong
Fracture: very uneven, sometimes conchoidal
Mohs scale hardeness: 6,0 – 6,5
Specific gravity: 4,8 – 5,0 g/cm³
Major metaphysical healing properties attributed to pyrite:
Detoxifies, regenerates cells, increases blood circulation, strengthens the digestive system, bones, lungs, repairs DNA- damage, promotes cell formation, has a protective effect on communication.
---
A part of our pyrite jewelry offer. Click on the images for more details!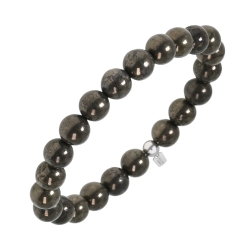 For more jewelry please click here!
---
Use of pyrite
Pyrite was used as a mineral detector in radio receivers, and is still used by crystal radio. Pyrite was also used to produce sulfur and sulfuric acid. Pyrite is also occasionally used as a gemstone.
Occurrence of pyrite
Spain, USA- Colorado, Arisona, Sweden, Norway, Italy, Greece, Romania, Germany, Russia, Ukraine. It is an otherwise common type of mineral.
---