Magnesite - knowledge base, jewelry
Properties of Magnesite, physiological effects, zodiac signs and Magnesite jewelry.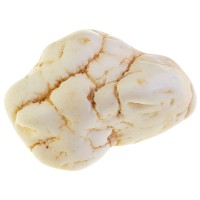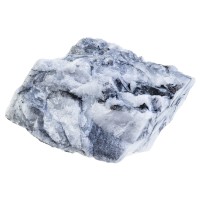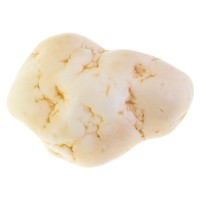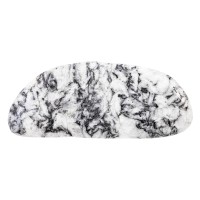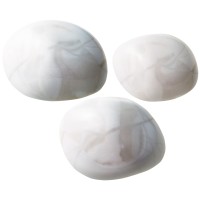 Magnesite is a magnesium carbonate. They may contain small amounts of iron, manganese, cobalt and nickel as additives.
Chemical and physical properties of Magnesite:
Formula: MgCO3
Crystal system: trigonal
Category: carbonate mineral
Color: colorless, white, yellow, brown, pink
Streak: white
Transparency: transparent- translucent
Cleavage: perfect
Fracture: conchoidal
Mohs scale hardeness: 3,5 – 4,5
Specific gravity: 3,0 – 3,2 g/cm³
Major metaphysical healing properties attributed to magnesite:
It is a detoxifier, stimulates digestion, helps in weight loss, muscle relaxant, antispasmodic, reduces cholesterol, strengthens the pancreas, anticoagulant, for rheumatic diseases, prevention of heart attacks, treatment of headaches, sedative, relaxation, increases patience.
Zodiacs associated with magnesite gemstones:
Magnesite is the gemstone of the zodiac sign of Aries.
Click here to read about the general characteristics of horoscopes!
---
A part of our magnesite jewelry offer. Click on the images for more details!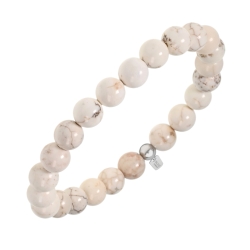 For more jewelry please click here!
---
Formation of magnesite
Magnesite is formed as veins in serpentine and magnesium-rich ultramafic rocks, usually in metamorphic terrain.
Use of magnesite
Magnesite can often be used as a binder in road paving and as a catalyst for the production of synthetic rubber. It can also be used to make fertilisers and other magnesium-containing chemicals.
Because magnesite is easy to drill, cut and polish, it is also used to make beads for jewellery. It is very dyeable, which is exploited and used to make jewellery in the widest range of colours, often as a substitute for other, rarer gemstones.
The occurrence of magnesite
Although it occurs in smaller quantities in many places, the most prominent are Austria, China and the USA.
---