BALCANO - Papillon / Two piece 18K gold plated ring set with butterfly and zirconia
---
Free delivery regardless of value
More than 200,000 products on stock
Decorative set of two rings. One ring is adorned with a double winged butterfly-shaped headpiece with a glitter surface, while the other is decorated with a beautiful, colour-playing cubic zirconia crystal. Anti-allergy, stainless steel jewelry with a shimmering 18K gold plating.
Wear together or separately on other fingers.
A wonderful addition to everyday wear in combination with other pieces from the BALCANO - Papillon jewelry collection.
| | |
| --- | --- |
| For who: | Women |
| Shape: | Butterfly |
| Type of ring: | Other rings |
| Top part size: | ⌀ 6 ; ⌀ 4 mm |
| Width: | 2x1,2 mm |
| Thickness: | 1,1 mm |
| Material: | 316L Stainless steel |
| Material color: | Gold |
| Plating: | 18K gold / Glitter surface |
| Gemstone type: | Zirconia (CZ) (Cubic Zirconia) |
| | Synthetic |
| Gemstone color: | AB Crystal (Aurora borealis) |
| Gemstone shape: | Round (Brilliant, round) |
| Gemstone setting: | Prong Setting (Claw Setting) |
| Gemstone size: | ⌀ 4 mm x 1 ( 0,52 Ct) |
By clicking on the "Add to cart" button, you do not order the product, it will only be added to your cart and you can send your order there.
(For more detailed information, please see "Shopping information".)
---
BALCANO - Papillon / Two piece 18K rose gold plated ring set with butterfly and zirconia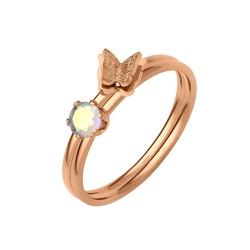 ---
You may also be interested in