BALCANO - Beaded Snake / Stainless Steel Beaded Snake Chain-Bracelet, High Polished - 1,2 mm
---
Customer satisfaction summary
Gift wrapping also available in the cart
in stock
Product code:

441221BC9716
Guaranteed 1 Day FREE Delivery

And Return or Size Exchange
30 Days Money-back Guarantee

or Size Exchange
More than 100.000 customers

with high buyer satisfaction
More than 200.000 quality jewelry

on stock ready for immediate delivery
Elegant snake chain bracelet adorned with tiny stainless steel beaded. Made of high quality 316L medical grade stainless steel, with a lobster claw clasp and plated with high polish.
A classic accessory for everyday wear.
Choose matching accessories from our wide range of jewelry in our webshop for the perfect look.
| | |
| --- | --- |
| For who: | Women |
| Thickness: | 2,3 mm |
| Chain type: | Beaded Snake Chain (Brazilian Chain, Hexagon Chain, Round Maille Chain, Star Weave Chain) |
| Chain thickness: | 1,2 mm |
| Chain clasp type: | Lobster Claw Clasp |
| Adjustable size: | 16-21 cm |
| Material: | 316L Stainless steel |
| Material color: | Silver |
| Plating: | High polished |
By clicking on the "Add to cart" button, you do not order the product, it will only be added to your cart and you can send your order there.
(For more detailed information, please see "Shopping information".)
---
BALCANO - Beaded Snake / Stainless Steel Beaded Snake Type Jewelry Set Collection, High Polished - 1,2 mm
---
BALCANO - Beaded Snake / Stainless Steel Beaded Snake Chain-Bracelet, 18K Gold Plated - 1,2 mm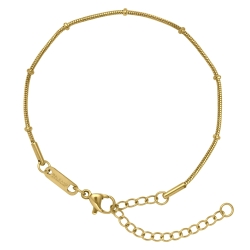 BALCANO - Beaded Snake / Stainless Steel Beaded Snake Chain-Bracelet, 18K Rose Gold Plated - 1,2 mm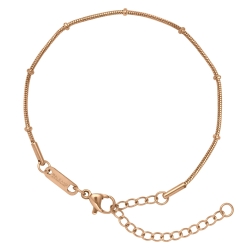 ---
You may also be interested in