Silver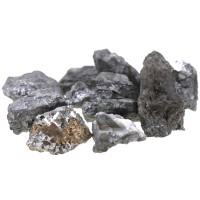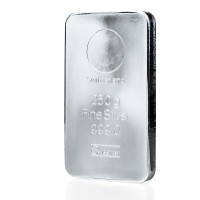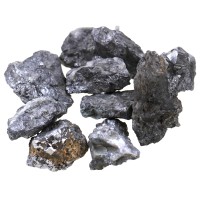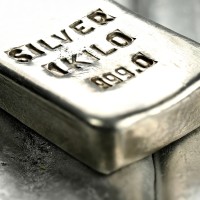 Chemical and physical properties of silver:
Symbol: Ag
Crystal system: face- centered cubic
Category: metal
Color: silver color
Mohs scale hardeness: 2,5
Specific gravity: 10,49 g/cm³
Melting point: 961,78 °C
The Latin name for silver is Argentum.
It is the best electrical and thermal conductor of all metals.
A metal known and used since the earliest times.
Coloured silver is the whitest metal and has a strong shine, so it was used to make jewellery and money for its beauty. It is also used in the manufacture of mirrors for its excellent reflective properties. It is quite resistant to external influences. It has excellent stretchability, 1 gram of silver can be used to make 1800 metres of wire.
It's hardness is between copper and gold. It has a melting point of 1000° and is an excellent conductor of heat and electricity. Like copper, it dissolves air gases when molten, and when cooled, the dissolved air makes the solidified metal perforated.
In ancient times, most of it was mined in Asia Minor, Greece, present-day Spain and later in present-day Transylvania (Dacia).
Until the 16th century, silver was worth 1/10th of gold, but then large quantities of silver began to be traded from South and Central America, so that the value of silver began to decline. Around 1800, it was worth only 1/15th of gold; from 1850, when the silver production of the United States, due to the abundance of deposits and the perfection of technical equipment, suddenly increased and then began to assume enormous proportions, the value of silver fell to 1/40th of gold. As a result, several mines in Europe that were several hundred years old have been abandoned.
Silver is quite common in nature, but is rarely found in large quantities in the colour state, although pieces of silver in the magnitude of a million have been found in the German Ore Mountains and in Kongsberg, Norway. Several silver ores are known, the most important being: argentite, which contains 87% silver, mined mainly in Mexico and Nevada; pyrargyrite, found mainly in the United States; and phaco ore or tetrahedrite.
Most silver is obtained from silver-containing galena, which also contains 1% silver.
Most silver is still won today, as it was in ancient times. The principle is at least the same. Advances in technology are only reflected in improvements in economy. In ancient times, the dry way was the only way known and is still the most common way. It consists in reducing lead-bearing silver ores to lead or, if not originally present, adding lead ores. The molten lead dissolves the silver. If allowed to cool slowly, the pure lead solidifies first. The solid lead is removed with a sieve-like tool and the more easily melted, silver-rich alloy remains. The lead is then oxidised with hot air using bellows and discharged as slag, leaving the pure silver behind.
The amalgamation process has been used since the 16th century.
This consists of combining it with mercury. The mercury dissolves the silver. The mercury is then distilled down to obtain the silver colour.
More recently, the electrolytic method is the most commonly used.
They do not change in air, but they have the common defect of being blackened by sulphur (sulphur vapours, hydrogen sulphide, etc.).
This property can be improved by alloying with a metal that forms a solid solution with silver and is not blackened by sulphur; palladium is the most suitable for this purpose, of which 2-5% is already sufficient (palladium alloy). In addition to Pd, Mn, Zn, Cd, Sn, Sb, Al and Mg could be used to improve the properties of silver; the general use of silver castings containing these metals is prevented by the Metal Marking Act. It is black in fine powder form.
In addition to jewellery, it is used in the electrical industry.
In its colloidal state it is used in medicine, and its compounds are also used in the photographic industry. Its most notable compound is silver nitrate (pokolko, lapis).
Sterling silver:
This is 925 silver, which contains 92.5% (by weight) silver (usually alloyed with copper and palladium). It has better machinability than pure silver and is more resistant to sulphur when exposed to alloying elements. This is the generally accepted silver content.
(Of course, there are alloys with a lower silver content: 900 = 90.0% silver content, 835 = 83.5% silver content, 800 = 80.0% silver content, but these are no longer sterling silver because of the lower silver content.)
Cleaning silver jewellery
Use a special silver cleaning cloth;
Silver cleaning liquid (Caution! Do not use on turquoise, pearl and antiqued jewellery!)
In the absence of the foregoing, toothpaste and toothbrush can be used (the fluorine content of toothpaste will easily remove blackening).
Finally, wipe dry and clean with a soft dry cloth.
What should you look out for?
Don't wear it if you go into thermal water, because the jewellery will immediately develop a silver sulphide coating, i.e. it will turn black!
Protect it from various chemicals and cleaning products - although not all of them are harmful, consider it a general advice for safety - avoid contact with acidic substances (e.g. soda or even salt water.)
Preferably store in a dry place when not in use!
In the case of antique jewellery, do not clean or rub, as the antique-looking coating may be worn or damaged. If you don't have to, don't wear it while bathing!
The health significance of silver:
Silver has no natural role in the human body, but...
disinfectant and bactericidal effects without any negative impact on more complex life forms. Hippocrates (the father of modern medicine) wrote that silver has medicinal and disease-preventive properties
preparations containing silver accelerate the healing of burns
also promotes bone healing
as silver turns black in response to acidity (when silver jewellery is worn), it can also be used to draw attention to inflammation in the body, because the acidity of body fluids, such as sweat, changes and this causes rapid blackening.
---