Palladium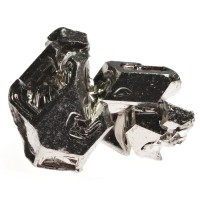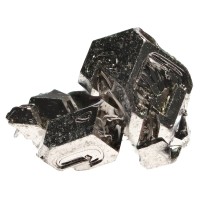 Chemical and physical properties of palladium:
Symbol: Pd
Crystal system: face- centered cubic
Category: metal
Color: white (palladium color)
Transparency: none
Mohs scale hardeness: 4,75
Specific gravity: 12,02 g/cm³
Melting point: 1554,9 °C
A silvery white, shiny metal, it turns into palladium oxide on a dark red glow. Melted in a graphite crucible, palladium-carbon bonds are formed. Even when annealed, it is twice as hard as silver. It can be well shaped and forged. When heated in air between 400 - 700° C it oxidises and discolours, but on further heating the oxide decomposes.
Palladium in the form of a non- ferrous metal is mainly used by the chemical industry as a catalyst on substrates. It is an indispensable aid in the production of high purity hydrogen.
Its alloys are used in the jewellery industry (gold, white gold), electrical engineering and communications, but large quantities are also used in dentistry. The precious metals industry uses it mainly for plating silverware and for various gold alloys.
---