Glass - Murano glass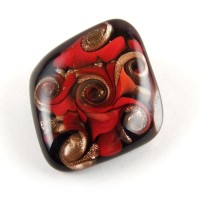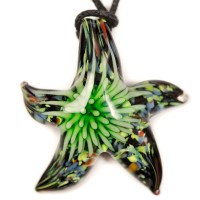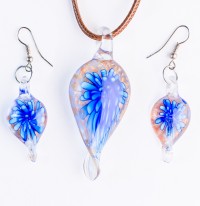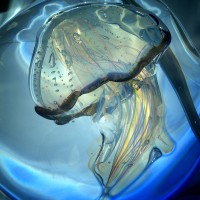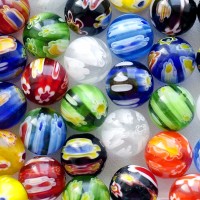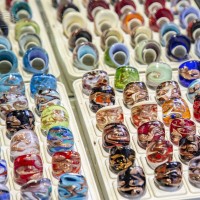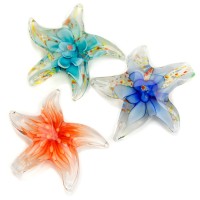 Glass
Artificial silicates are obtained by fusing silica (quartz, sand) with metal oxides. Alkali silicates are transparent and formless, but soluble in water (water glass), while silicates of alkaline earth metals are crystalline. But if the silicate contains several types of metal oxides (oxides of alkali metals and alkaline earth metals), it is still transparent and formless, but insoluble in water and chemicals, and therefore suitable for glass. The silicates used for glass therefore usually contain two or more metal oxides, known as alkali metal oxides and alkaline earth metal oxides, which can be replaced by oxides of heavy metals (lead glass).
A good glass contains double-triple silicate. If it contains more than three molecules of silica, the glass is opaque and crystalline when cooled, and if it contains less than two molecules of silica, it becomes soft, brittle (iridescent) and cannot withstand chemical agents. Dilute glass dissolves all kinds of metal oxides and even metals that usually stain the glass, but when such glass is cooled slowly, the elements dissolved in large quantities crystallize (crystal glass, bone glass, aventurine and ruby glass).
Glass can be made from a wide variety of metal oxides, but in practice only the following types of glass are produced:
1. Calcium-sodium glass
It is obtained by fusing lime, soda and quartz. Calcium-sodium glass is used to make slab glass and ordinary flasks. Bottle glass is also calcium-sodium glass, but it contains a lot of iron oxide and aluminium oxide, since impure sand or natural silicates (granite, basalt) are used to make it.
2. Calcium- potassium- glass (Czech crystal glass)
It is made from a mixture of lime, potash and quartz. Potassium glass is purer and whiter than sodium glass and is mostly used to make finer and more polished glassware. It is harder to melt than sodium glass and is therefore used to make the combustion tubes used in laboratories. Often, soda ash is used as a partial substitute for potash to obtain glass that melts more easily.
3. Lead glass (crystal glass)
Made from a mixture of aluminium (red lead oxide), potash and quartz. Because of its high specific gravity, it is highly refractive, which is why it is used to make fine, polished glassware and optical glass (photochromic glass). In glass, silicic acid can be partially replaced by boric acid, which makes it easier to melt, and such glass is used as glaze, enamel; calcium oxide can be replaced by barium oxide, strontium oxide, etc.
The glassmaker first fires the quartz and puts it in water while it is still glowing, which makes it brittle and therefore easy to chop. More recently, natural sand is increasingly used instead of quartz. The crushed quartz (sand) is mixed internally with other raw materials (fusible materials) and a decolourising agent is added. The small amount of iron in the raw materials usually tints the glass green. This colour is removed by adding a small amount of barium or nickel oxide as a decolourising agent, which metal oxides turn the glass red, neutralising the green as a complementary colour.
The glass mixture is then melted. The crucibles are filled with the glass mixture and after it has melted, usually glass shards are added. During melting, the sulphuric acid salts in the raw material that do not fuse with the silica on the surface of the glass precipitate out as so-called glass vapour. In order to purify the glass, it is further heated until it becomes a slurry, at the same time stirring with wooden sticks or adding arsenic acid to the bottom of the crucible; the arsenic acid dissolves in the glowing glass and evolves oxygen, which also oxidises the sodium sulphide that causes the dark colour, thus rendering the glass colourless. When the glass is clean and free of bubbles, processing follows, but since the slurry glass cannot be blown, it is first allowed to cool again until it is syrupy. The glass takes 24-36 hours to melt and finish.
Glassware is either blown or, more recently, pressed. Glass is blown using a blowpipe.
Coloured glassware is usually not made from mass-painted glass, but white glass is coated with coloured glass. Glass objects made in this way are then placed in furnaces heated to a low temperature, known as cooling furnaces, where they are left to cool for 24 hours, because glass that is cooled quickly and not uniformly will crack.
Finally, the chilled objects are polished to finish them off. Glass is polished using sanding discs, on which the surfaces are first roughly polished with a sanding stone, then the polishing is continued with a fine abrasive, which makes the surface smooth. Finally, the objects are polished with zinc oxide on felt-coated wooden discs or paper discs.
The Venetian glass industry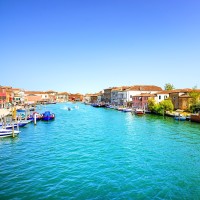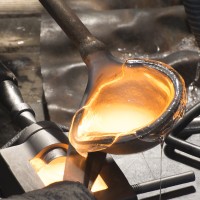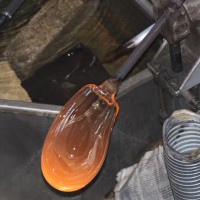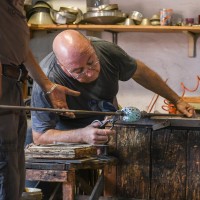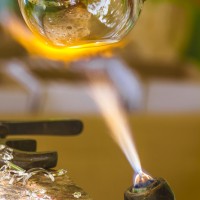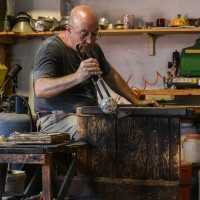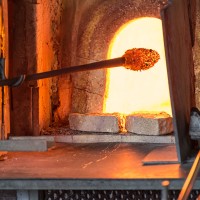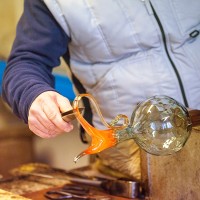 Their products are characterised by the fact that they are shaped in front of the kiln without a pattern, using only a nozzle and tongs, and are decorated with glass flowers and coloured glass rods, which can even be used to make the whole vessel (filigree glass, petite glass), into which a number of white or coloured glass threads are then fused.
To make filigree glass, so-called elements are used, i.e. glass rods in which thin opaque white (latticinio) or coloured glass threads are fused. The simple element is made by placing a white or coloured glass on the nozzle, dipping it in transparent glass and pulling the sphere out into a glass rod. In this way, a rod is obtained with a coloured thread inside. By joining seven of these elements together, heating them and then pulling them out while twisting, a composite element is obtained in which six strands are twisted around the seventh at the centre.
But elements can also be made with the coloured yarns wound on. In addition to the filigree glass, these elements are also used to make e.g. the ears and bases of pots and pans and are usually used to decorate glassware. Filigree glass is made by putting elements into the clay pot mentioned above and blowing a glass ball into it, onto which the rods are stuck.
To produce glass objects with a mosaic-like decoration on the surface, thin slices of elements showing figures such as stars, flowers, etc., are cut from the cross-section and pressed onto the glass sphere. This is then dipped in transparent glass and blown up.
The mille fiori letterpresses are made using a similar process. They are convex, lens-shaped pieces of glass with the bottoms of these mosaic-like plates fused into them.
The Venetian glass factories also produce chandeliers and mirrors decorated with glass flowers and beads. Another speciality of the Venetian factories is mosaic glass. This is opaque coloured glass, sold in the form of plates or rods.
History of glass production in Murano
Venetian glass is typically produced on the island of Murano, near the city. Traditionally made of soda-lime metal and elaborately decorated, usually with gilding, enamelling or engraving. Today, Murano is known for its art glass, but it also has a long history of glassmaking. From the Middle Ages onwards, it was the largest luxury glass centre in Europe. In the 15th century, Murano glassmakers produced crystal that was almost transparent and considered the finest glass in the world. Murano also developed a white milk glass that looked like porcelain. They also became the finest mirror makers in Europe.
Venice later became an independent city-state and functioned as a seaport and commercial centre. Through its links with the Middle East, glassmakers were able to acquire additional skills as glassmaking was practised at a higher level in countries such as Syria and Egypt. Venetian glassmakers developed secret methods for making glass, and the fact that Venetian glassmaking was concentrated on the island of Murano made it possible to keep the secrets.
Murano reached its greatest popularity in the 15th and 16th centuries. Murano glass production began to revive in the 1920s. Today, Murano is home to several glass factories and a few individual studios. The glass museum in Palazzo Giustinian contains a large number of glass samples from Egyptian times to the present day, as well as a history of glassmaking.
---