Fire enamel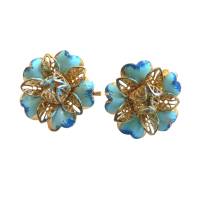 Fire enamelling is an ancient form of surface decoration used to colour jewellery and ornaments without the need to use precious stones. The history of enamelling dates back to ancient Greece. Throughout history, different cultures have preferred different techniques. Cloisonné enamel, for example, was popular in the Byzantine Empire, while craftsmen in medieval France and Germany preferred champlevé. And Art Nouveau jewellery designers used the plique à jour.
Artists love enamelling because it allows them to be more expressive and add a painterly quality to their work. Fire enamel is essentially a fusion of glass powder and metal.
Enamel technique in practice
There are many ways to apply enamel: it can be screened, painted, stencilled, sponged or applied wet or dry to metals.
Enamel is a temperamental technique in which each piece is fired in a kiln at temperatures between 650°C and 930°C. If the enamel cracks, it is usually beyond repair and the workpiece is rejected. With this in mind, beautifully crafted fire enamel ornaments and jewellery are much more valuable.
The most common ways to enamel jewellery:
Cloisonné enamel
This is a technique where thin silver or gold wires are used to draw the design, which is then filled with enamel. It is then placed in an oven where the enamel melts. Cloisonné differs greatly from other techniques because the individual wires remain visible and form the outline of the design.
Champlevé enamel
In this enamelling technique, the recesses in the metal are made by etching, engraving or engraving, and then layers of enamel are applied until they rise slightly above the surface of the metal. The enamel is then fired and polished.
Guilloché enamel
This is a technique in which translucent enamel is applied to a piece of metal into which the designs have been etched. After firing, the patterns in the metal become visible. Guilloché was made famous by Peter Carl Fabergé, whose jewellery house used this technique for many of its objects and jewellery.
Plique à jour enamel
This enamel was popular during the Art Nouveau period. In this technique, the enamel is not applied to the metal, but the enamel powder is applied to a pattern with wires on a thin copper foil or mica sheet, then filled with enamel and removed (sometimes with acid) after firing to achieve a stained glass effect. Plique à jour jewellery often has a high lustre because the light can penetrate the piece from both the front and the back.
Round bosse
A three-dimensional enamelling method in which a rubber is applied to the metal to help the fondant enamel adhere. When the piece is heated, the rubber template disappears as the fondant enamel fuses to the metal.
Painted enamel
In this enamelling process, a single-colour fondant is fired on a metal base to form a background on which an image is later hand-painted. Each colour that is painted on is fired one by one to fix the layer. The colours are painted in the order of their melting point, from the hottest temperature to the lowest, to prevent the colours from fusing.
Photographic enamel
In this technique, the enamel is essentially coated with a photosensitive solution, photo negative coated and then illuminated. The enamel is then coated with black ceramic powder, which adheres only to the illuminated areas, and then fired.
Pertabghar needle enamel
This technique involves applying thick green enamel on a gold background and then printing an openwork gold pattern into the molten enamel. This type of needle enamel process has been practised mostly in India.
What to look out for in enamel jewellery
If you want to have your own collection of enamel jewellery, look for pieces where the enamel is in good condition, without cracks or chips. The enamel should enhance the design of the jewellery, either by adding colour, contrast or texture.
---