Engraving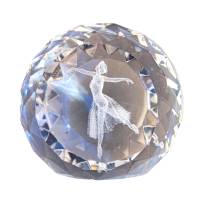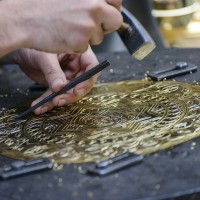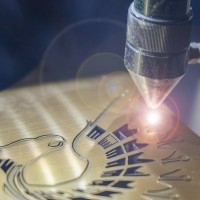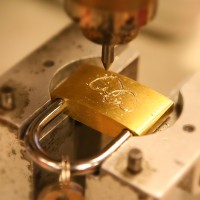 Engraving is one of the best ways to personalise your gift
Engraving simplifies and facilitates personalised gifts for individuals and companies alike. Engraving can be done on all kinds of souvenirs, be it glass, pens, watches, stainless steel, gold, silver, copper, wood, leather or plastic. The subject of the engraving can be a photo, logo, coat of arms, monogram or any text. Thanks to the latest laser engraving technologies, the smallest font size can be as small as 0.3 mm (which is not even legible to the naked eye), so you can engrave even longer texts on smaller objects.
Our company works with 3 different laser technologies and machines:
CO2 laser, FIBER laser, and MOPA laser. With these machines, we can meet a wide variety of engraving needs. With our lightning fast service, we can have your personalised jewellery or souvenir ready the next day.
Make your gift more personal with engraving, either for yourself or for your loved ones!
Engraving of pens
Pens are the most popular engraved gift item. The pen is often given as an everyday object, as a decorative pen or as a simple keepsake. Engraving can make such a gift unique and a lasting memory. Usually in the form of an inscription (name, company name, occasion, greeting).
Engraving of rings and jewellery
Rings, such as engagement rings, wedding rings, are popular objects for engraving, and it is common to engrave short personal inscriptions on them. Almost any material can be engraved on a ring. When engraving on a ring, it is very important to take into account the width of the ring and whether it has a hallmark or name mark, which will reduce the surface area available for engraving.
Engraving is possible both inside and outside the ring. Besides rings, we also engrave a wide variety of jewellery. For example, a photo can be engraved on shiny pendants.
What is engraved on the wedding ring?
For traditionalists, the different types of engraving are not going out of fashion. The most common is the engraving of the couple's names and wedding date on the rings.
Another popular group is the engraving of Latin quotes such as "Amor Vincit Omnia", which translates as "Love conquers all". This is also due to the fact that only a few people can understand the Latin texts engraved on the inside of the rings, making the message more personal for couples.
There will also be plenty of engravings featuring an excerpt from a song that means a lot to the couple, perhaps just the song they heard on their first date. This ring could even carry a memory, as long as the quote is not too long.
Some people engrave a religious phrase on the inside of their rings, usually a favourite passage from the Bible, or another text or poem that is typical of their religion or faith.
Many rings have just one symbol inside, which can be a heart, a sign of eternity, or any other symbol the couple would like to see.
The ring can contain a special message or even a personal message that only the couple knows the meaning of. The two rings do not necessarily contain the same idea, but for example two different sentences, which could be a message to the other person.
It can simply be a text, a sentence from your wedding vows, which is a few short words. The phrase you choose can represent love, respect, trust, eternity, or anything else the couple want to express to each other.
Last but not least, the rings also contain traces of poetry and literature in the form of engravings, such as words from any particular poem or book, which can be sentimental or humorous.
Some people have their sentiments engraved around the outside of the ring to embellish the simple, unpatterned wedding rings with special engraving.
Engraving of photo
Engraving of photos is also popular, and can be done using traditional diamond or laser engraving, in a glossy, polished finish, on special plastic sheets or on certain wood surfaces. The engraved photo gives a special effect on pendants, key rings or even the dial of a wall clock. The higher the resolution of the original image, the more beautiful and lifelike the image will be. The engraved surface gives the effect of a black and white print, so it is worth viewing the image in black and white first to see an approximation of the engraving. (For example, if you want to have a portrait of a person engraved, you should choose an image where the subject(s) of the portrait are clearly separated from the background). A photo taken against a monochrome background is best.
Preparation of name- and signboards
Most doors and letterboxes have a nameplate, which can be personalised by engraving a special image or using a special font. Depending on the need for outdoor or indoor use, copper or plastic is usually the material of choice for name plates and nameplates.
Mechanical engraving
Computer-controlled mechanical engraving is a type of engraving process where the selected text or graphic is created by a rotating cutter needle drilling deeply into the object while the head moves in 2 dimensions according to vector control.
Such engravable objects can be made of materials such as metals, precious metals and materials with different surface treatments.
The manual engraving
At one time, hand engraving was not used to make printing plates, but only to decorate jewellery, weapons, trophies, knives and other fine metal products. Engravers use a hardened steel tool for the operation to reduce distortion of the surface, which in most cases is traditionally the copper plate.
In modern hand engraving, chisels or copper cutters are used to cut various metals such as silver, nickel, steel, copper, gold, titanium and other metals used in objects such as weapons, jewellery and motorcycles.
Professional engravers have an engraving resolution of up to 40 lines/mm, which is a guarantee for high quality work.
The laser engraving
During such engraving (laser engraving), a concentrated laser beam causes the material to burn or evaporate.
Laser engraving can produce highly durable, highly visible and legible lettering, logos, images, serial numbers or even barcodes on almost any material. It can be used in a very wide range of applications. Generally personalised souvenirs are made, but in industrial circles engraving can be used to brand tools, number tools or even parts. Thanks to the properties of the laser beam, engraving can be carried out with extremely high precision even on small surfaces.
A laser engraving machine consists of three main parts: the laser, the controller and a surface. The laser, just like a pencil, allows you to create patterns on the surface by emitting a beam of light through the controller. The controller, which is usually a computer, controls the direction, intensity, speed, direction of movement and propagation of the laser beam, which creates the desired pattern on the surface. The point where the laser touches the surface is the focal point of the laser optical system. The point we are talking about is in most cases small, less than a millimetre (0.1-0.01 millimetres). The surface of the material is changed by the energy of the beam at the centre. It heats up the surface, which usually evaporates, but it can also cause the material to break (glass, glass-like) and peel off its surface. So the material can then be removed from the surface to create the intersection.
YAG lasers
The so-called YAG (yttrium- aluminium- garnet) laser, a laser light of variable frequency and intensity whose movement is controlled by a mirror. This laser burns the image to be engraved into the selected surface with micrometre precision. Thanks to its properties, i.e. variable frequency and intensity, it can mark a wide range of materials: metal, plastic, pickled wood, leather and leatherette.
Engraving the stained wood also burns off the top, painted layer, so the original colour of the wood is visible.
Leather engraving is a combination of heat treatment and the removal of the top layers, even resulting in embossing for some materials.
When engraving, it is extremely important that the surface is smooth and straight, as the laser is focused at a single point on the up-down axis. There is a certain level of tolerance of the focused laser beam on the curved surface, but this is only a few millimetres, so only small inscriptions or figures can be made on cylindrical objects, for example.
Carbon- dioxide (CO2) laser
This laser is one of the oldest gas lasers and one of the most useful to date. Carbon- dioxide lasers are the most powerful continuous light lasers available today. Their efficiency is also outstanding: up to 20% of the input power can be used as output power. You can only use a special paste on metals, but this type of laser is great for marking and engraving wood, plastic, leather and glass.
It can also be used to cut and cut to size plexiglass or other plastics and paper. As a general rule, what cannot be nicely engraved with a YAG laser, can be engraved with a carbon- dioxide laser.
FIBER - MOPA laser
These are the latest laser engraving technologies, which can engrave on a wide variety of metals at high speeds without the need for any consumables. In fact, with the MOPA laser, special coloured engraved surfaces can be created on steel surfaces.
2D/3D engraving inside the material
You can also create an image inside the material by focusing the laser properly. The most common form is three-dimensional engraving into glass crystal slits. By focusing the laser at an extremely tiny point, the glass is suddenly exposed to heat, creating tiny micro-cracks that refract the light. The small dots eventually form a complete picture. In most cases, the portraits are taken on the spot with a camera capable of capturing the image in three dimensions. Today, there is also technology that can create a three-dimensional face from a photo. It is also possible to engrave two-dimensional images inside the glass in this way, so you can even display a company logo, a sign or a simple photo inside the glass.
The history of engraving
The first evidence of people carving out samples using banding was an ostrich eggshell utensil containing water found in the Diepkloof rock cavity in South Africa, which is dated to the Middle Stone Age, around 60,000 BC. Bone and ivory engraving were important techniques in Upper Palaeolithic art, and there are large engraved rock carvings on many rocks, representing a range of prehistoric periods and cultures from around the world.
In antiquity, the only incisions could be made on metal, so shallow grooves can be found on some jewellery from the first millennium onwards. The majority of so-called intaglio patterns are also found on ancient gold rings or other items, or sometimes a combination of both. The beads of engraving were once all carved or engraved semi-precious stones, an important art form in the ancient world that remained popular until the 19th century. However, the use of glass engraving was usually done using a wheel. The decoration was first based on Greek mythology, before hunting and circus scenes became popular, as well as images from the Old and New Testaments.
It was also used to make imitations, as well as the emergence of precious metal goods during the same period, including the use of gold leaf, which could be cut freehand or with a lathe. No fewer than 20 different stylistic workshops have been identified, and it seems likely that engravers and vessel makers were independent craftsmen.
In the European Middle Ages, goldsmiths used engraving for decoration and metalwork. They are believed to have been the first to start engraving on prints. From this grew the engraving of copper, in the production of printing plates for artistic images. The so-called old master prints were made in Germany in the 1430s, soon followed by Italy. Many early engravers had a goldsmithing background.
Engraving as a decorative technique really took off in the 5th century. A short, sharpened stick was used for hand engraving, which was pushed across the surface by hand. The result was a much sharper line than could be achieved by etching with acid. One of the first examples of engraving is the gold helmet. Hand engraving was particularly popular in Greece in the third and fourth centuries. The engraved scene on the back of a bronze mirror shows the contemporary view of life.
They also decorated urns with similar scenes and carved illustrations from mythology. The technique was enriched by the use of alphabets, special dates were immortalised, or philosophical sayings were immortalised in this way. Engraving reached its peak in the 15th century. It was used to decorate armour and many other metal objects, such as shields on which the family coat of arms was engraved. This is really important for knights in full armour, so that the wearer of the armour can be recognised. This technique was also used for the seal rings, which were used to seal documents. Rings of this kind, which are a symbol of the family's ancient past, its pride and its continuing family heritage, still exist today.
The first and greatest period of engraving was between about 1470 and 1530, during which masters such as Martin Schongauer, Albrecht Dürer and Lucas van Leiden came to the fore. After that, engraving slowly became more separate from etching, which was a much easier artistic technique to learn. However, many prints combine the two techniques: although the so-called Rembrandt prints, which were usually etchings, are often included in this category, they are not. In the 19th century, most engravings were commercial illustrations. Engravings continued to be common in newspapers and many books in the early 20th century because they were cheaper to print than photographic images. He also always used the word 'engraving' as an original artistic term among his methodological terms. It also included many classic stamps, although in practice today it is mostly used only in certain countries when an "elegant" design is required and only a limited range of colours is acceptable.
Hand engraving of the Renaissance
In the mid-1900s, during the Renaissance, hand engraving began to take off. The inventions were supported by pneumatic hand engraving systems. The art as well as the technique became available thanks to hand engraving. In recent years, hand pruning has become an extremely mysterious art, where the craftsmen are meticulous and careful, but rarely do the trainees decide to hand over their products for commercial distribution. Even in the 1970s, many engravers were reluctant to share their secrets with the trade, and the methods were still closely guarded.
Engraving has historically become an important method
From large quantities of paper images, to the production of musical works, (sheet music, book printing) or even artistic reproductions of graphics, commercial reproductions and illustrations for books and magazines.
In the production of reproduced graphics, copperplate engraving, copper engraving, woodcuts (woodblocks), copper plate engraving or copper engraving, and similar techniques have played a huge role.
A copperplate engraver uses a tool made of hardened steel, a chisel, which he presses or strikes with the palm of his hand. Engraving chisels of different sizes and shapes are also used to create different types of lines. The chisel produces a unique line with clean edges.
---