Bracelet - Bangle bracelet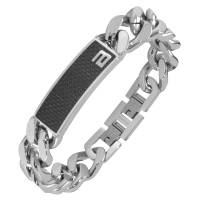 Origin of the word "bracelet"
The term "bracelet" should be understood to mean an arm ring. The term "bracelet" derives from the Greek word "brachile", meaning "the arm", which is derived from the Old French word "barcel". It is the English word for bracelet.
Types of bracelets
Chain
Bracelets that can be made of any type of chain and worn alone or with some kind of decoration, headpiece or even any model divided into several chain pieces with ornaments. Sometimes some small dangling ornament is also put on them.
Click here to view our bracelets
Wristlet
These are usually round or oval rigid bracelets that are either in one piece or open in two or three directions to facilitate picking up. They may be made of metal, wood or plastic, but rarely of glass or some mineral.
Beaded bracelets
They are usually made of loose beads and are strung together with a string or rubber band through the holes. The beads can be made from natural or synthetic minerals, real pearls, glass, wood, metal, or even plastic beads to make flashy bracelets.
Click here to view our beaded bracelets
Charm bracelets
Charm bracelets are jewellery worn around the wrist that carry a personal charm by providing the wearer with decorative appendages or trinkets that best suit their personality and taste, and that mark something important in their life.
Alternative health bracelets
Alternative health bracelets include bracelets such as karma bracelets, ionised bracelets, magnetic bracelets, holographic balance bracelets, etc. These bracelets, which form a separate group, are not distinguished from other bracelets by their design, but by their own supposed function. The karma bracelets are made of wood and have different magical powers. They bring good luck and good karma to those who choose to wear the bracelets.
Sport bracelets
The colourful silicone rubber sports bracelet was promoted by Nike and Lance Armstrong. The yellow Livestrong wristband was launched in May 2003. The success of the bracelet led to the silicone bracelets being used in charity campaigns. These may be similar to awareness bands, which have been used for similar purposes. These bracelets are also known as "Baller id bands" or "Balling bands".
Bracelets with healing properties
Natural minerals are believed to have positive physiological effects.
You can read more about them in our gemstone encyclopedia by clicking here.
Magnetic bracelets
The strongest is the negative ionic balance bracelet. Unlike other products like it, negative ion producing minerals such as germanium, tourmaline, bioceramics are all integrated into the bracelet material, creating a high quality medical grade silicone. The bracelets are capable of emitting 2000 -ion/cm3 of a constant nature and have a vibration of 7.83 Hertz, which is exactly the same as the Earth's natural vibration. The natural ingredients provide the vibration and negative ion emission, so the bracelets have a permanent effect. This allows the bracelets to retain their negative ion producing capacity for many years. Bracelets should never be programmed incorrectly or lose their effectiveness. The four medical-grade titanium magnets (2000 gauss) integrated into the bracelet have a magnetic effect far superior to that of the well-known and proven quality magnetic bracelets. The principle of operation is not much different from the popular holographic bracelets, but the effect is even more complex and powerful. The Negative Ion Balance Bracelet combines the effects of the already known bracelets, but also amplifies them through synergy.
Most of the cheap plastic bracelets, unlike the previous ones, that are said to have some magical properties are a scam, not a reflection of reality.
An example of this:
The biggest scam, Power Balance bracelets, has been busted
As well as being not very aesthetically pleasing little pieces of plastic, they have also been claimed to increase stamina, strength and balance. Countless athletes have also been duped by the clever tricks of a product offered as part of a show based entirely on placebo effects and the characteristics of the human body, but the company that produced it has now been busted and must pay a fine of nearly thirteen billion forints to those who were wronged. It seems that this kind of scam fortunately did not bring as much profit as they had hoped, as the imposition of the fine caused the bankruptcy of the company and could be a good example for others.
Bracelets in history
The oldest bracelet survives from antiquity and was already worn as jewellery. This jewellery was worn on the arm, wrist and upper arm and was made up of different materials by different cultures according to their customs.
Stories of bracelets date back as far as 7000 years to Egypt. People in Egypt used bracelets for various spiritual purposes. The scarab was Egypt's most recognisable ancient symbol. For them, the scarab was a symbol of rebirth. They wore more and more varied hand-carved scarabs and used them to decorate their jewellery and bracelets.
The Greeks used to cast snake-shaped bracelets in different metals, which were worn only by women. Men usually wore rings. The Greeks had a tradition of weaving bracelets from red and white cords on the first day of March and wearing them until the end of summer. This bracelet was called 'Martis' and was believed to protect the wearer's skin from the strong Greek sun. The same idea was held by the Arabs.
Among the Romans, both men and women wore bracelets, but they were mostly worn on the right arm. They were given to valiant warriors by the emperors as gifts of distinction. In Persian and many other oriental cultures, bracelets were sometimes made so wide that they could cover almost the entire lower arm. In Bulgaria, there is a tradition called Martenitsa, which requires people to wrap a red and white cord around their wrists to ask "Baba Marta" to bring them spring sooner.
In India, the fact is accepted in many places that the bracelet is meant to represent the financial status of its female owner. Bracelets were also worn by savage peoples, usually made of bird feathers, shells, the teeth of wild animals or of their vanquished enemies.
Bracelets were particularly popular among ancient and medieval Germans. The bracelets were known as Bauge and were usually given and exchanged as a badge of honour, a sign of friendship, a reward, and sometimes even used as currency.
The first bracelets were made of iron, and it was not until the Merovingian period that bracelets made of silver and gold began to appear. For women, when bare arms came into fashion during the reign of Louis XIV, suddenly the wearing of bracelets became fashionable. In this century, even men wore bracelets as tokens of love or as medals from women. From the end of the 18th century onwards, the wearing of bracelets on the upper and lower arms became increasingly fashionable.
Nowadays, the wearing of a bracelet or bracelet chain is also common for men. Disposable, cheap plastic or rubber bracelets have also become fashionable.
Of course, almost all precious metals are used to make bracelets, combined with leather, rubber, wood, stone, carbon fibre and other flashy materials that are limited only by the imagination of the creator.
---